Charlotte Weber
Live Oak Stud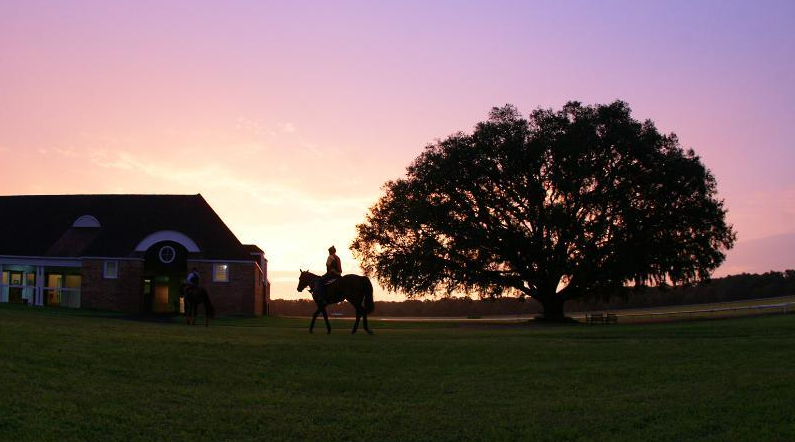 4 Decades in Marion County
Charlotte Weber is the Owner of Live Oak Stud located just west of Ocala, Florida.  Operating the 4,500-acre Thoroughbred farm and commercial cattle operation, Weber has solely guided the fortunes of this magnificent breeding and racing operation since 1995. In these past four decades, Live Oak Plantation's distinctive black, red and white silks have become a nationally recognized racing symbol.
Through racing efforts at major tracks across North America, Live Oak has built a sterling record of accomplishments, including recent successes with 4-time Grade 1 winner World Approval, winner of the $2 million Breeders' Cup Mile (G1) and 2017 Eclipse Award champion turf male, a Graded stakes double at Keeneland on April 8, 2017 when Holding Gold won the $200,000 Shakertown S. (G2) and Awesome Slew won the $250,000 Commonwealth S. (G3).
Other successes include World Approval's older half-brother Miesque's Approval, winner of the $2 million Breeders' Cup Mile (G1) and 2006 Eclipse Award champion turf male, and other top horses including Revved Up, My Typhoon, Hesanoldsalt, and half-brothers Solar Splendor and Sultry Song (both out of homebred Sultry Sun).
The half-brothers Solar Splendor and Sultry Song notably won Grade 1 races on the same day in 1992 at New York's Belmont Park.
"I remember the day was Sept. 19 because that's the same day my daughter got married," Weber recalled. It was one of the few times Weber could not be in attendance to see her horses run a big race.
The Live Oak "brother act" was repeated in 2006 with 9-year-old Revved Up and his half brother Miesque's Approval winning stakes on the same day, both out of homebred Win Approval. On Sept. 9, 2006, 8-year-old Miesque's Approval brought home the Red Bank S. (G3) en route to the Breeders' Cup victory, while 9-year-old Revved Up won the Bob Harding S., both races at Monmouth Park. Revved Up's sire is Live Oak's Sultry Song. Joining his brothers and furthering Win Approval's amazing legacy, World Approval joined his half-brothers Revved Up and Miesque's Approval in the million dollar earnings club.
Success at the racetrack is simply a reflection of Weber's approach to Live Oak's successful breeding program.
"You try to breed the best to the best," Weber explains. "If you are fortunate as I am, and you are able to race the horses you breed and give them the time necessary, they will return the investment. I do not want the instant profit or quick returns generated by running horses before they are ready.
"For example, in 2006 Revved Up was eight-years-old and going strong. Miesque's Approval was a seven-year-old when he won the Breeders' Cup Mile.
"I run it as a business," Weber explained, referring to the thoroughbred and cattle operations active upon the beautiful expanse of oak covered land that comprises Live Oak. "It is one of my highest priorities to always be a good steward of the land."
The Florida environment
From the time significant thoroughbred breeders found their way to Ocala in the 1950s and 60s, the Florida climate has become a siren song for horsemen and young thoroughbred horses on their way to racing greatness. Today, a comfortable majority of the top racing prospects in the nation pass through Ocala to train in its excellent environment.
The quality Live Oak environment and the excellent climate of Florida contribute greatly to the production of world class thoroughbreds. Beneath the spreading canopy of live oak trees, horses benefit from the lush green, nutrient-rich grass covering the gently rolling hills of Live Oak Stud. Romping in the golden Florida sunshine from the day they are born, Live Oak horses grow the strong bones and muscle of thoroughbred racehorses.
"Florida has the absolute advantage of its climate," Weber said emphatically. "There is no doubt in my mind."
It is said that the same limestone foundation that underlies Kentucky extends to Florida and underlies the rolling hills of Marion County. In this environment, young foals begin the work of becoming athletes almost immediately upon birth, as they are out and running across spacious, grassy paddocks from the day of their birth. Whereas, horses stabled in harsher climates may be confined to barns for weeks or months at a time to escape freezing elements.
Florida is also noted for its clear, cool spring water which streams out of the aquifers.
A Commercial Training operation
"Live Oak Stud is a public, commercial training operation," Weber stated. "We are open to the public; we do take clients."
Client horses receive the same care and attention that has brought Grade 1 success to Live Oak horses.