Carlton Ward, Jr.
Conservation Photographer




National Geographic Explorer
Carlton Ward Jr is a conservation photographer and National Geographic Explorer whose passion for nature was born from the Florida landscape. His mission is to inspire appreciation and protection of Florida's original nature and culture – the endangered wildness that is often hidden in plain sight but very much needs our attention to be saved.
Carlton began his career working with the Smithsonian Institution in Central Africa, leading to his first book, The Edge of Africa, and a photography exhibit with the United Nations. In 2004, he retrained his focus on his native Florida, motivated by eight generations of family heritage and a drive to bring new attention and protection to the state's under-appreciated wild heart. Carlton published Florida Cowboys in 2009 and founded the Florida Wildlife Corridor project in 2010. With fellow explorers Mallory Dimmitt and Joe Guthrie, he has since trekked more than 2,000 miles through the Corridor, during two National Geographic supported expeditions, which both produced award-winning books, PBS films and widespread outreach for the statewide vision to keep Florida wild.
Recent honors include receiving the Conservation Leadership Award from the Fish & Wildlife Foundation of Florida, being named a Florida Icon by Florida Trend magazine and serving as the Rolex Artist in Exploration with the Explorers Club.
Carlton's photographs are widely exhibited and collected, and are published in newspapers and magazines including Audubon, Smithsonian, Nature Conservancy and National Geographic. Learn more about his photography and fine art prints by visiting
CarltonWard.com
or his studio in Tampa. Purchasing Carlton's art helps empower him to stay on the front lines as a voice for conservation in Florida.
In 2013, Carlton founded Florida Wild, a media and production company working to elevate and protect wild Florida through strategic communications. Current productions include Chasing Ghosts and Path of the Panther, both in partnership with Grizzly Creek Films. Non-profit and agency partners include National Geographic, The Nature Conservancy, Florida Wildlife Corridor, Palm Beach Zoological Society, Florida Fish & Wildlife Conservation Commission and US Fish & Wildlife Service.
The Path of the Panther project has been Carlton's full-time focus since 2016, supported by grants from the National Geographic Society and numerous partners. Carlton and his team are managing a network of professional photography and video camera traps throughout critical habitat of the Florida Wildlife Corridor. Their purpose is to inspire a public and political movement to save the Florida Wildlife Corridor through the story of the endangered Florida panther. To learn more and support this project, please visit PathofthePanther.org.
Follow him on Instagram @CarltonWard.
Mallory Lykes Dimmitt
Conservationist
CEO, Florida Wildlife Corridor Foundation
Mallory Lykes Dimmitt is a seventh generation Floridian whose childhood was partly spent exploring the lands and waters of central Florida. She pursued her passion for the outdoors by receiving her B.S. in Natural Resources from the University of the South in Sewanee, Tennessee. She was also awarded a Doris Duke Conservation Fellowship at Duke University's Nicholas School of Environment where she earned a Master's of Environmental Management.
Some of Mallory's projects include protecting river corridors and large landscapes in Colorado with The Nature Conservancy, research in Sri Lanka for the International Water Management Institute and strategic planning and organizational development with Legacy Institute for Nature & Culture (LINC).
Widely recognized as a national conservation leader, Dimmitt is currently the Vice President of Strategic Development for Lykes Bros. Inc. where she works at the intersection of sustainable agriculture and conservation for a multi-generation family-owned agribusiness with significant, contiguous land holdings in Florida and Texas.
Dimmitt's previous roles include protecting river corridors and identifying large landscape conservation opportunities across four states in the Colorado Plateau with The Nature Conservancy. Dimmitt was instrumental in developing the vision and initial strategies as a co-founder of the Corridor Coalition's predecessor organization. Beyond her management role, she participated in four ground-breaking expeditions through the Florida Wildlife Corridor with National Geographic Explorer and photographer Carlton Ward Jr. and wildlife biologist Joe Guthrie. These treks resulted in award winning documentaries produced by the Coalition.
Dimmitt has served as a Board member and Board president for the Corridor Coalition and served as its first Executive Director from 2014-2016. Dimmitt also sits on the Board of Directors of Archbold Biological Station, one of the founding organizations of the Corridor Coalition, as well as the Florida State Fair Authority, WUSF Advisory Board, Love IV Lawrence, Camp Merrie-Woode and University of the South. 
Traci Deen, Esq.
President and CEO, Conservation Florida
A 6th generation Floridian born in Homestead, Florida, Traci is passionate about protecting Florida's wild and working lands for the generations of Floridians to come. She leads Conservation Florida as CEO, overseeing statewide land conservation efforts. Her work with Conservation Florida includes fostering strategic partnerships, engaging the community and community leaders, and facilitating large-scale land transactions. She currently serves as the President of the Alliance of Florida Land Trusts, and as the Florida Representative on the Board of Directors of the Partnership for Gulf Coast Land Conservation.
Traci is an environmental lawyer and an active member in the legal community. She has been appointed twice to the Florida Bar's Governmental and Public Policy Advocacy Committee by the Florida Bar President and has served as Legislative Director for the Florida Association for Women Lawyers. She is currently serving a third term as a Board Member for the Central Florida Association for Women Lawyers.
In the community, Traci is an active volunteer. She has served as the Chair of the Junior Leagues of Florida State Public Affairs Committee, representing over 11,000 women. Traci enjoys a good book, horseback riding, exploring trails, and spending time with her husband and daughter.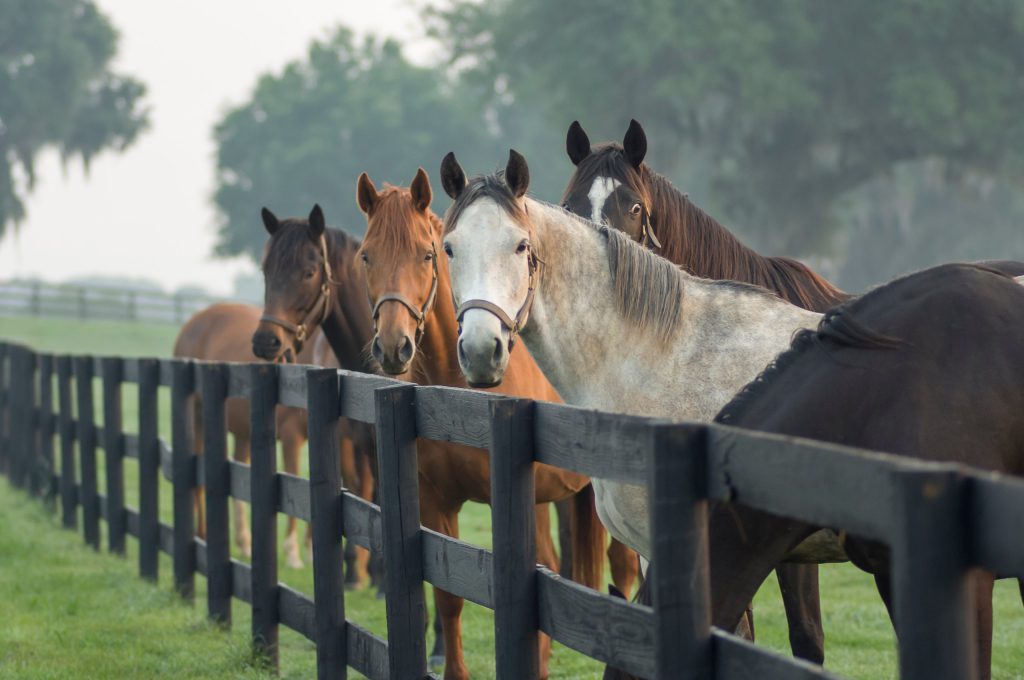 It is the vision and mission of Horse Farms Forever to inspire conservation of horse farms through education, awareness and idea exchange so as to preserve natural pasture land focusing on horses and their habitats, to protect soil and water on which they depend, and minimize land use conflicts
in Marion County, Florida.
We are watchful of government and others to preserve and protect horse farms and farmland for future generations - especially in the Farmland Preservation Area. We are neither anti-growth nor anti-development; we encourage urban growth to remain inside the Urban Growth Boundary.
Horse Farms Forever® is a Florida not-for-profit corporation registered with the Florida Department of Agriculture and Consumer Services as a charitable organization and approved as a tax-exempt 501(c)(3) corporation by the Internal Revenue Service. Horse Farms Forever® does not have a political mission. Our status as a 501(c)(3) charitable organization does not allow us to participate or intervene in political activities. The organization will neither advocate on behalf of political candidates nor advocate for the passage of legislation.
Follow Us
When the farmland watchdogs sound the alarm, you'll hear first.