Laura competes Idara at the Grand Prix level. She is a 9 year-old mare formerly competed by Martin Fuchs. Here she is competing at the World Equestrian Center. 
Laura Connolly recently bought a new farm in Ocala and moved her private show jumping barn from Wellington to Ocala for the winter season. In the summer, she trains and competes out of one of the most beautiful barns in the Northeast, her DarkHorse Farm in Ridgefield, Connecticut. She joined Horse Farms Forever® (HFF) as a Founder Member as suggested by Matt Varney, a Realtor with Ocala Horse Properties.
Grand Prix Show Jumper
Connolly is a successful Grand Prix show jumper and has competed for many years in Europe and in the United States at top venues located up and down the east coast and throughout the Midwest, including Wellington, WEC, HITS, Old Salem Farm, Tryon, KY Horse Park, Traverse City, and many more. She currently owns 10 horses, including the talented gelding Rahmannshof Upgrade, who is competed by European Champion and FEI world #1, Martin Fuchs of Switzerland.
"When I think of Ocala, I think of horse country. Horse Farms Forever's mission to preserve that character speaks straight to my heart and passion. I couldn't be prouder to support this incredible organization and their purpose," said Connolly to HFF.
Pony Paradise
In addition to her show jumping career, she is an attorney, as well as a business owner. Connolly's love of horses, and the process of designing and building her dream barn in Connecticut, led her to develop Stables-4-Sport, a partnership with Alan Megerdichian of Sequoia Contracting Company, the builder of her farm. Together, they create very unique and special homes for horses.
Connolly's gorgeous all-white New England style horse barn is one of Sequoia's top featured building projects. The farm is nestled in the idyllic Connecticut countryside and the barn looks and feels more like a bright and airy New England cottage than a barn for horses. Stables-4-Sport, the partnership between DarkHorse and Sequoia Contracting, is focused on building and renovating horse farms tailored to modern day sport horse operations. Megerdichian brings over 30 years of building and designing to the table and Connolly's knowledge as an equestrian and show jumper in both the United Stated and in Europe, as well as her deep understanding of the industry, offers valuable insight.
"We are focusing on renovating and building farms with all of the modern-day amenities the sport horse industry is begging for," stated Connolly in a Stable Style article. "The sport horse industry has changed so dramatically over the years, and we are focused on creating leading edge equine facilities that keep up with the ever-expanding demands and desires of both the horses and the humans active in the sport."
The Stable Style article showcases some of the unique features such as individual lights in each stall, which is convenient for evening checks on one horse, without disturbing the rest of the horses in the barn.
The unique features in her horse barn are just one way Connolly strives to make her horses more comfortable. She is always looking for new ways to improve the sport horse industry, which has recently led her to founding SportHorse Tech, a new endeavor focused on developing leading edge high-tech equestrian equipment.
At Home in the Barn
Connolly's new businesses are helping her to fulfill her dream as a young girl to spend all day in the barn, as she spent countless hours in the barn. First at the next-door neighbor's horse farm, and then at the barn that her parents built at their farm in Michigan so that she would spend more time at home – well, at least she was at home in the barn!
"My mom or dad would have to come and drag me out of there every evening kicking and screaming. I think my parents quickly realized they wouldn't see very much of me unless they moved the horses to our property! So, when I was about eight years old, they built a small six stall barn and a ring on our farm, which is where I grew up riding," stated Connolly in an article on Fei.org.
Connolly is excited about the possibilities in Ocala with the opening of the new World Equestrian Center and to work with horse farm owners to help make their vision and dream for their horse barn come true.
Horse Farms Forever welcomes DarkHorse and Laura Connolly to their winter home – in the barn!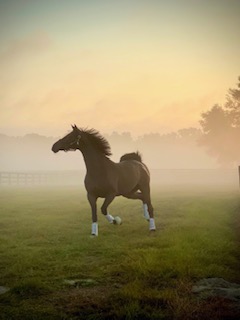 It is the vision and mission of Horse Farms Forever to inspire conservation of horse farms through education, awareness and idea exchange so as to preserve natural pasture land focusing on horses and their habitats, to protect soil and water on which they depend, and minimize land use conflicts
in Marion County, Florida.
We are watchful of government and others to preserve and protect horse farms and farmland for future generations - especially in the Farmland Preservation Area. We are neither anti-growth nor anti-development; we encourage urban growth to remain inside the Urban Growth Boundary.
Horse Farms Forever® is a Florida not-for-profit corporation registered with the Florida Department of Agriculture and Consumer Services as a charitable organization and approved as a tax-exempt 501(c)(3) corporation by the Internal Revenue Service. Horse Farms Forever® does not have a political mission. Our status as a 501(c)(3) charitable organization does not allow us to participate or intervene in political activities. The organization will neither advocate on behalf of political candidates nor advocate for the passage of legislation.