Spring Speaker Series at Vintage Farm
On Friday May 20, Horse Farms Forever® (HFF) held our annual Spring Speaker Series at the College of Central Florida's Vintage Farm. It was an intimate event for our members, guests and other large farm owners to continue the conversation about conservation. We celebrated the organization's fourth birthday and reflected on the growth and success under the leadership of outgoing Executive Director Sara Powell Fennessy.
"I am so incredibly proud to have played a role in growing Horse Farms Forever into all that it has become," said Fennessy. "It is hard to believe how far we've come in such a short period of time and the mountains we have climbed along the way. My love, dedication, and passion for Horse Farms Forever will live on. I whole-heartedly believe in all that Horse Farms Forever is and will always be its biggest fan and advocate."
We also welcomed Emily Holmes as our new Executive Director. Emily brings a wealth of experience as the former Events Coordinator and Director of Events at the Florida Horse Park. Holmes is also a freelance organizer of USEA/USEF Horse Trials and FEI Eventing competitions across the country and has her USEF "r" Eventing Technical Delegate's license. Emily lives in Williston where she operates Five Hound Farm, a sport horse breeding and boarding operation on fifty acres.
"At 12 years old on a vacation from Maine with my aunt, I fell in love with Marion County – the incredible horse farms, the miles of fencing, the wide-open pastures, and the majestic oak trees," said Holmes. "I welcome the opportunity to work with the dedicated Board of Directors, and everyone involved to preserve the character and culture of the Horse Capital of the World®."
Importance of the Horse Farms Forever® Amendment
The recent conservation victory for the Farmland Preservation Area was highlighted by HFF Director of Conservation Strategies, Busy Shires.
"We are also here tonight to celebrate a big win for the Farmland Preservation Area," said Shires. "Horse Farms Forever has amended Marion County's Comprehensive Plan with a Text Amendment to enhance the definition of Rural Character and add further protections to the Farmland Preservation Area by requiring all applications for Zoning Requests and Special Use Permits be consistent with the character of the Farmland Preservation Area."
Private Landowners Hold The Key
Billy Van Pelt II, Director of Special Program Development and Senior Advisor at the American Farmland Trust, was our featured speaker for the evening. Van Pelt highlighted the importance of good planning through Marion County's Comprehensive Plan, but he also emphasized the important role that private landowner's play in conserving farms to help ensure the future of the equine industry.
Some of the reasons why landowners conserve their land include:
For Farmers & Ranchers
Fulfillment of personal conservation goals/peace of mind.
Provides capital farmers can reinvest in their operations.
Lower land values; creates opportunities for access and affordability.
For Communities
Slows the path of development and ensures land is permanently available for agriculture.
Protected farmland supports local economies.
Protects other important natural resources and maintains rural/agrarian character.
Set A Goal
Van Pelt suggested as a next step, that Marion County consider adopting a goal of conserved acreage in the Farmland Preservation Area. This will give planners a goal to work towards and will also help guide development to appropriate areas within the Urban Growth Boundary.
To close out the gathering, HFF Board Member Nick de Meric of de Meric Stables shared his heartfelt and inspiring tribute titled Reflections of an Ocala Horseman.
Our presenting sponsor, Lugano Diamonds, brought a distinctive glow to the event with a stunning display of diamonds and jewels. We thank them for their continued support of Horse Farms Forever.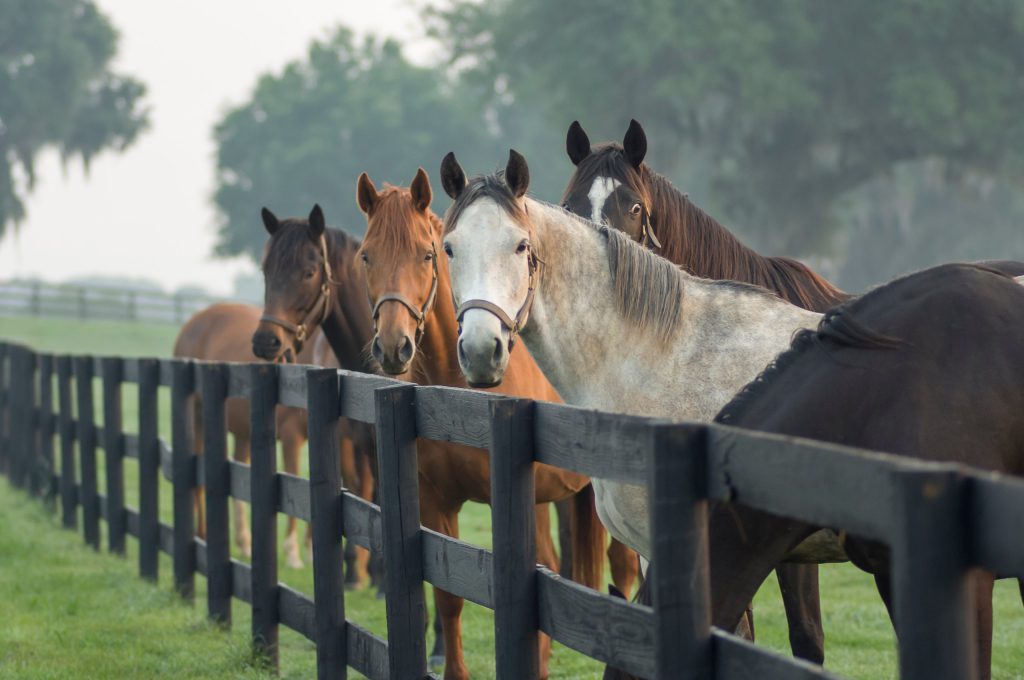 It is the vision and mission of Horse Farms Forever to inspire conservation of horse farms through education, awareness and idea exchange so as to preserve natural pasture land focusing on horses and their habitats, to protect soil and water on which they depend, and minimize land use conflicts
in Marion County, Florida.
We are watchful of government and others to preserve and protect horse farms and farmland for future generations - especially in the Farmland Preservation Area. We are neither anti-growth nor anti-development; we encourage urban growth to remain inside the Urban Growth Boundary.
Horse Farms Forever® is a Florida not-for-profit corporation registered with the Florida Department of Agriculture and Consumer Services as a charitable organization and approved as a tax-exempt 501(c)(3) corporation by the Internal Revenue Service. Horse Farms Forever® does not have a political mission. Our status as a 501(c)(3) charitable organization does not allow us to participate or intervene in political activities. The organization will neither advocate on behalf of political candidates nor advocate for the passage of legislation.