by Busy Shires Byerly, October, 2020
Horse Farms Forever is pleased to announce a partnership with the Alachua Conservation Trust (ACT) to help protect land in Marion County's Farmland Preservation Area. This partnership will help further the mission of Horse Farms Forever (HFF) of preserving the character and culture that makes Ocala the Horse Capital of the World®.
ACT is a non-profit land trust working to protect the natural, historic, scenic and recreational resources in 16 counties across north central Florida. They protect land through purchase, donation, and conservation easements and have facilitated the conservation of over 54,000 acres of land since 1988.
This partnership is supported by a generous $20,000 grant from the Felburn Foundation to facilitate the preservation of agricultural lands located in Marion County's Farmland Preservation Area with conservation easements.
The Felburn Foundation's generous support will allow HFF and ACT to expand our educational initiatives about land conservation options and work with willing landowners to protect land.
There are several land conservation options to help protect land, but conservation easements are the primary tool ACT uses for land conservation. Conservation easements preserve natural areas and farming practices and are tailored to meet a landowner's desired future land use. The property is never open to the public and remains a private holding. Conservation easements can be sold by selling the development rights and may also qualify for powerful income, estate, and property tax incentives.
Most of all, conservation easements can provide peace of mind by protecting property in perpetuity regardless of who owns it in the future. Landowners are able to ensure that their legacy is passed on to the next generation.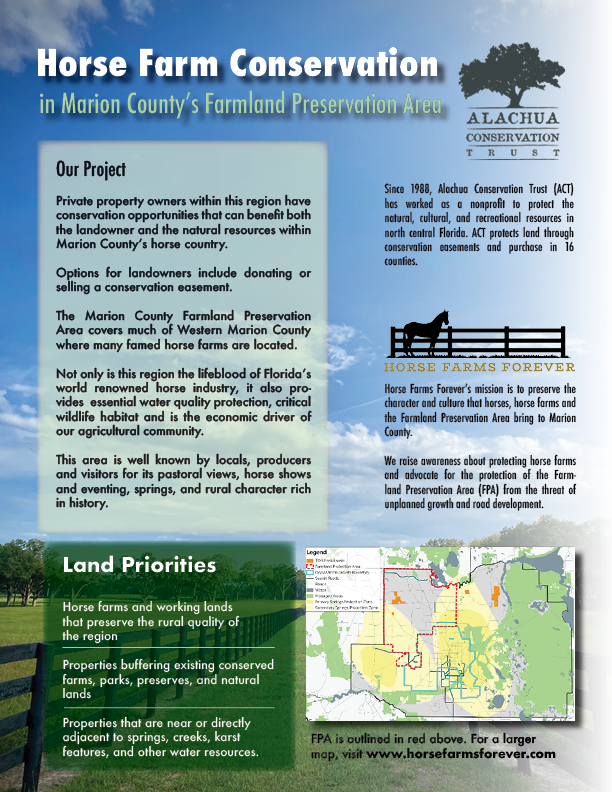 To learn more about how to protect your farm through conservation easements, contact Tom Kay, Executive Director, Alachua Conservation Trust
7204 SE CR 234 Gainesville, FL 32641
www.alachuaconservationtrust.org
352.373.1078

The Foundation was founded by Phil Felburn and is a charitable foundation that provides funding for nature libraries, museums, state parks, land conservation, springs protection, and environmental education.
Guy Marwick, who now serves as one of the Directors of The Felburn Foundation, was the original founder and Director of the Silver River Museum and Environmental Education Center. The museum opened nearly 30 years ago in 1991 and is a partnership with Marion County Public Schools.
Marwick is a visionary and a dreamer. Over 30 years ago, he was a science teacher at Osceola Middle School in Marion County. He saw the need to expand the activities and learning programs in his classroom. His dream was to create an outdoor learning center for children.
"One thing about science, is that the hands-on experience makes kids want to learn," he said as part of the 20th anniversary event of the museum.
Marwick was able to make his dream come to fruition with a fellowship from the Christa McAuliffe Fellowship Program. With this transformative donation, additional donors also supported the development of the museum and education center.
Each school day, students are bused to the museum for classes. Fourth-grade students visit as part of their Florida history requirement. Students in 4th and 5th grades visit for science instruction.
The museum is closed during the week to the public as Marion County school children attend classes. On weekends, the museum is staffed by park service personnel and volunteers and is open to the public.
Over 20,000 people visit the museum each year, 10,000 of whom are children on field trips.
The museum is located within Silver Springs State Park.
CONSERVATION SUMMIT
Preserving Open Spaces & Beautiful Places
November 19 at Golden Ocala
Always Watching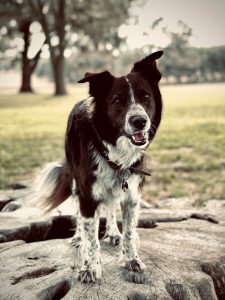 We work hard to keep you informed, and to represent our members' interests in preserving our horse farms, farmland and the unique character and culture of Marion County.
Join the herd. Every voice matters.