The American Farmland Trust (AFT) has been an inspiration and source of knowledge for us here at Horse Farms Forever (HFF) since our inception 3 years ago. At last year's Summit, AFT's Billy Van Pelt was treated to a helicopter ride over the top of Marion County by HFF President, Bernie Little. This is what he had to say about the significance of Ocala/Marion County's Farmland after seeing it from the air.
Precious and Productive Farmland
Last year, Billy Van Pelt of the American Farmland Trust presented a comprehensive report on the state of agriculture in Florida, highlighting what is precious about Marion County's soil, water, and rural landscape. This year, the American Farmland Trust has joined us as a Gold Sponsor of Conversations About Conservation. -Summit 2021. Van Pelt will once again be with us at the Summit on November 23. We are grateful for the perspective and knowledge he brings to our conservation efforts.
As a native of Kentucky's bluegrass region, he has overseen a successful, ongoing effort to conserve horse farms and has a good idea of what it will take to get it done here in Marion County. We had a brief conversation about conservation with Van Pelt in anticipation of the Summit, and this is what he had to say: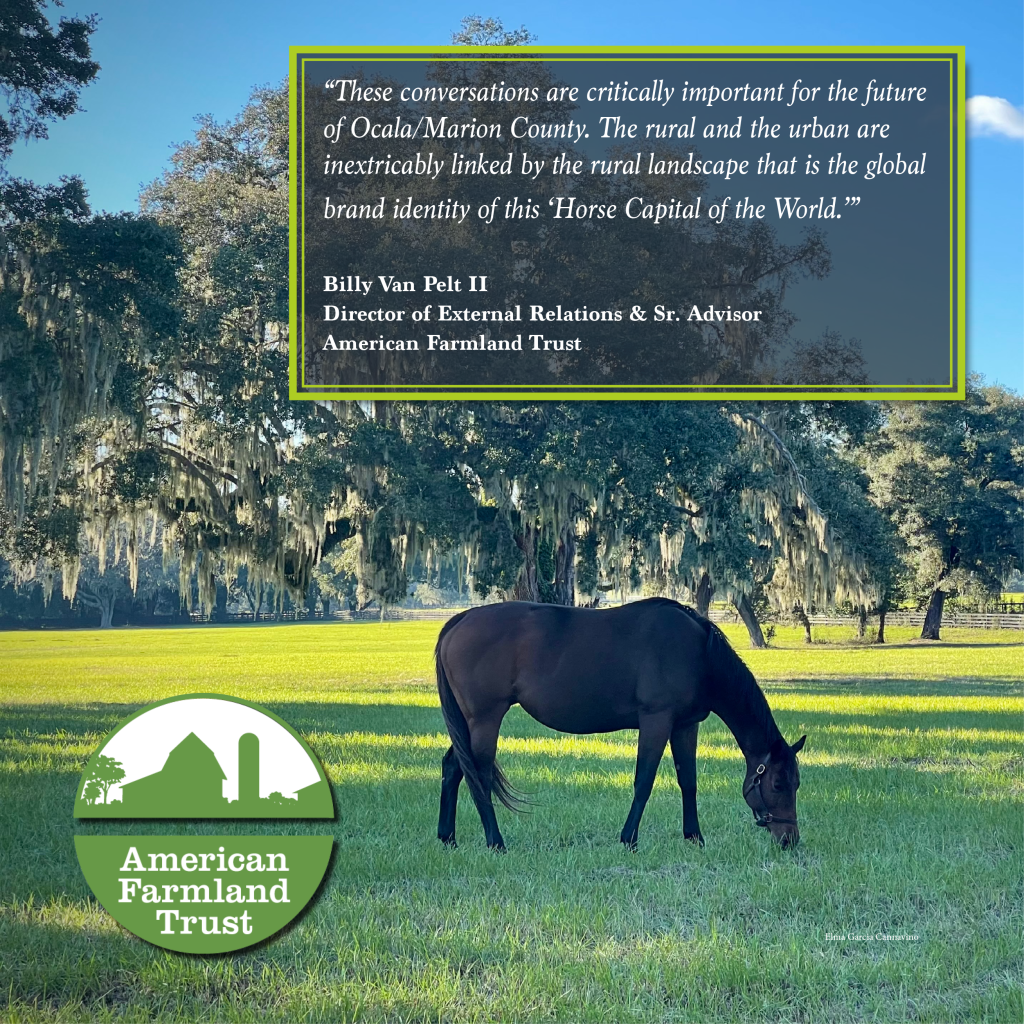 Why is it important for Marion County to have conversations about conservation?
"Conservation of these iconic and productive agricultural areas are equal to the conservation of the long-term economic development strategy of Ocala/Marion County, says Van Pelt. "It is a quality-of-life issue. Corporations, the best and brightest talent, residents, retirees, and tourists choose Ocala/Marion County because of the rural landscape."
Balance is critical, notes Van Pelt, who has a background as a landscape architect. "The rural landscape gives the urban area context and a sense of place. In an age where people can work from anywhere, providing a balance between the urban and the rural is critical for people to thrive in their jobs and in their lives. Beyond economic development, conservation is vitally important for the long-term environmental resiliency of Ocala/Marion County," he adds. The rare limestone-rich soils and springs in this area make it uniquely suitable for raising horses.
And there is a cost factor as well. "Agriculture uses less in services than it pays in taxes, notes Van Pelt. "Sprawl uses more in services than it pays in taxes. Sprawl is unsustainable both fiscally and environmentally." In the long run, unplanned growth costs us, while concentrated urban growth and agricultural property both use less in services than they pay in taxes.
What do we stand to gain through farmland preservation?
In a word: "Everything," says Van Pelt.  "All the economic impacts of the cluster of the equine and the agricultural sectors. Increased business recruitment, talent recruitment, agri-tourism, and agri-businesses." The horse industry represents twenty-percent of Marion County's GDP. There is one horse for every four people here. People come here to visit, retire, work, and play – and a lot them come either because of the horses or simply to enjoy the quality of life created by the landscape.
How would you describe Marion County's unique identity?
Van Pelt is quick to point out that our farmland is not just window dressing – it is a working landscape and our global calling card. He describes our global brand as "A rural landscape that defines the 'factory floor' of Ocala/Marion County's multi-billion dollar equine industries, complimented by a vibrant, thriving urban core," and adds that "both of these are economic development drivers that define its holistic quality of life."
In summation, Van Pelt emphasizes balance – an approach to growth that is vigilant to protect farmland and precious natural resources while still encouraging urban growth "from the inside-out," by concentrating density where municipal services are located.
The American Farmland Trust has so much to offer to citizens and landowners. Come to the Summit and meet Van Pelt during the lunch hour. His display will feature many of the resources that can also be found at their website, farmland.org.