Ocala is fortunate to have horse racing powerhouse Mark Casse as a resident. As one of the most renowned and decorated horse trainers in North America, Mark continues to chase his dreams.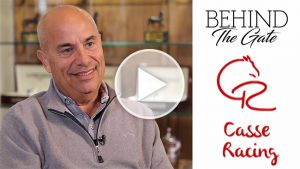 Mark's horse racing roots go quite deep. He, along with his two brothers have followed in the footsteps of their father Norman Casse, who was one of the founders of the Ocala Breeders' Sales Company. The third generation has also taken up the reins as Mark's son, Norman is also a successful trainer in the horse racing industry.
He has fond memories of the Kentucky Derby. In 1973, he and his dad traveled to Churchill Downs and watched Secretariat win the Derby. This was an influential moment in his life and at 10 years old, Mark was asked the proverbial question: What do you want to do when you grow up?
His answer: "Win the Kentucky Derby!"
Mark almost won the 2019 Kentucky Derby with War of Will. But not to be deterred, War of Will came right back with an impressive victory at the Preakness and his other horse, Sir Winston, won the Belmont. As one of the most decorated horse trainers in North America and Canada, he was inducted into the Canadian Horse Racing Hall of Fame. His horses have won the Canadian Queen's Plate two times, and most recently he found international fame in 2016 as Tepin, the horse he trained, became the first U.S. winner of the Royal Ascot's Queen Anne Stakes race in England.
While Mark has found international success, he calls Ocala his home where he and his wife Tina own a 135-acre training center in the Ocala Horse Complex. He's been in Ocala for over 50 years and is proud to pass that legacy on to his family.
Mark strongly supports the mission of Horse Farms Forever to protect the character and culture that horses, horse farms and the horse industry bring to Marion County. "It was important for me to be involved with Horse Farms Forever because it's been my entire life. I've been in Ocala for over 50 years and that's why my dad moved to Ocala," said Mark
He also wants to see the horse industry continue in Marion County. "Can you think of a better industry than horses? I don't want to see them go. You can build around them," he said.
"This is Ocala and it's my life!"
Mark is looking forward to the 2020 Kentucky Derby. He has two potential horses: Enforceable and Lynn's Map. "These two right now are obviously our best chances for the Kentucky Derby." 2020 may be the year Mark's lifelong Derby victory dream comes true. For more information on Casse Racing, visit Facebook and Instagram.