Sculptor Bryce Pettit Fashions A Timeless Award for Horse Farms Forever
When Horse Farms Forever Founder, Mary Jane Hunt, was seeking a one-of-a-kind award design for the Acorn Conservation Award, she sought the help of Adam Warner from Mountain Trails Gallery in her summer hometown of Jackson Hole, Wyoming. Warner connected Hunt with Durango, Colorado, wildlife bronze sculptor, Bryce Pettit. Both Warner and Pettit were moved by the mission of Horse Farms Forever, and happily accepted the project, graciously donating their services.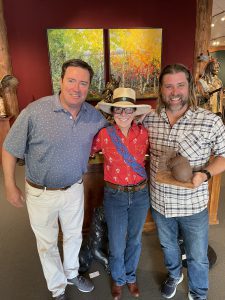 Mary Jane Hunt (center) with Mountain Trails Gallery owner, Adam Warner (left) and Wildlife Sculptor, Bryce Pettit (right) who is holding the clay form which would become the Acorn Award.
You may recognize Warner from another prominent bronze sculpture in Marion County – he worked with Utah artist, Mike Wilson, to create and install the very familiar "Cracker Cowboy" series of sculptures at the entrance to Brownwood in the Villages.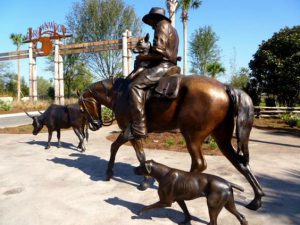 Bryce Pettit has been featured in a variety of galleries and exhibitions in his 20 years as a bronze sculptor. He has been chosen for several large public works including for the Tulsa International Airport, the Maritime Museum in Ludington Michigan, the Na 'Aina Kai Botanical Gardens in Kawai, Hawaii as well a collection of libraries and schools.
The phrase "From tiny acorns, mighty oaks grow," aptly describes how we envision the conservation movement in Marion County. A few landowners are leading the way by putting their vision into action as they protect their land. The first of these that we have honored is Charlotte Weber of Live Oak Stud. We look forward to honoring more in the coming years. Each time, they become an example to other landowners who see the possibilities, and the movement grows. In the end, a magnificent tree has grown, with branches that spread throughout the County, and the Farmland Preservation Area is sheltered in its shade.
We thank Adam Warner and Bryce Pettit for embracing our vision and bringing it to life as an Award that will be treasured by all who receive it.
The artistic strength of a sculpture is in the simplicity of its composition. I try to pare each piece down to the minimum necessary to tell the story. When the composition is reduced to only the essentials, the intensity of the movement and impact of the form is pure and direct.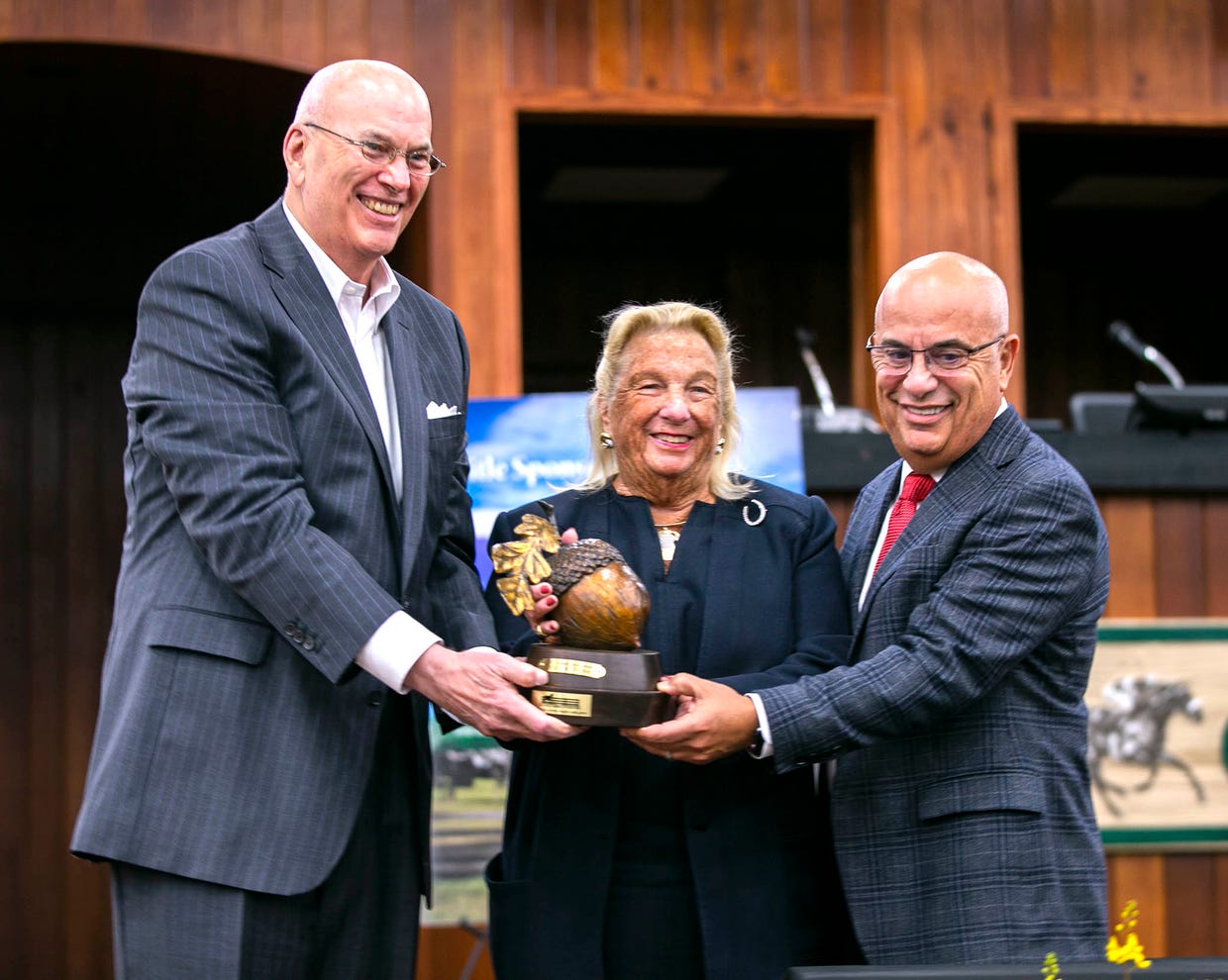 An Acorn For Charlotte
Live Oak Stud horse farm owner Charlotte Weber (center) is presented with the Acorn Preservation Award by Horse Farms Forever President Bernie Little (left) and Canadian and National Horse Racing Hall of Fame Thoroughbred Trainer Mark E. Casse (right) at the Conservation Summit at Ocala Breeder's Sales, Tuesday, November 23, 2021, in Ocala, Florida. Photo by Cyndi Chambers, Ocala Star Banner.