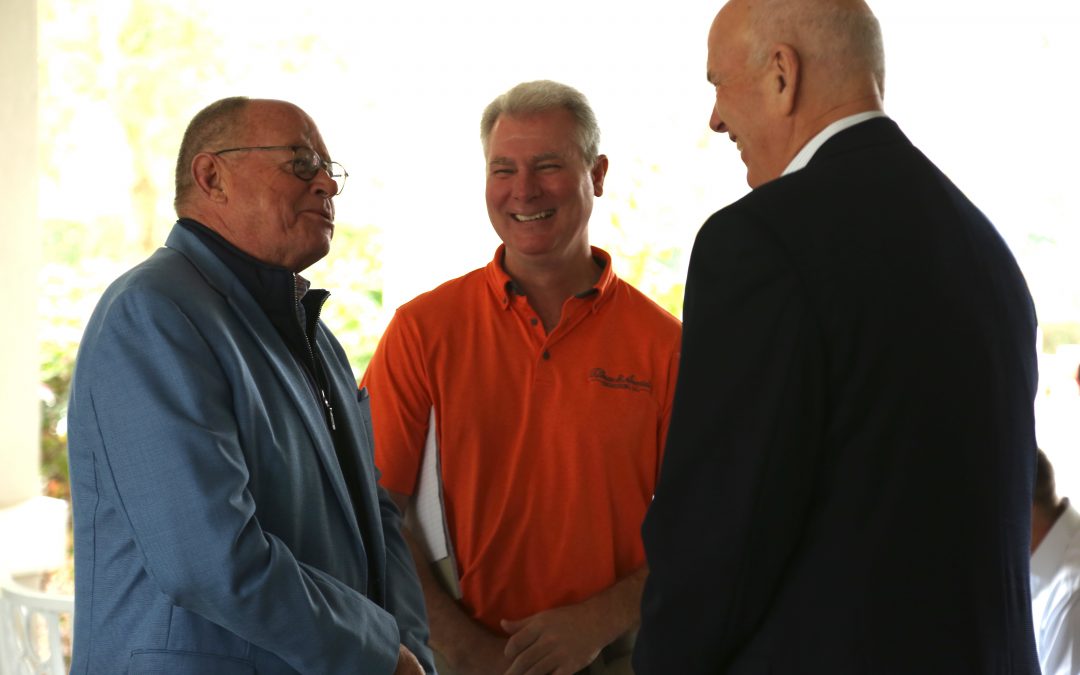 David Tillman (center) with Doug Cone of Cone Distributing (left) and HFF Board President, Bernie Little (right) at the Conservation Summit on November 19. Photo by Dillon Video.
Engineering Sensible Growth
As we inspire Marion County to uphold and protect its global brand as the Horse Capital of the World®, it is gratifying to see the wide range of members who are joining us. Everyone has a stake in keeping Ocala/Marion County open and beautiful, including our development and real estate companies. We're going to grow. The question is where, when and how.
One new member who is an expert in sensible growth planning and natural resource protection is Tillman and Associates Engineering. Tillman sponsored and attended our Conservation Summit last week. We are grateful for their support and the expertise that President David Tillman brings to the table. As experts in civil engineering who also recognize the importance of preserving the character and culture that horses and horse farms bring to Ocala/Marion County, Tillman is an important ally and resource.
I am excited to be a part of Horse Farms Forever. I have always felt that a healthy balance of preservation and growth will be the success of Marion County. Our horse farms are a true treasure worthy of protection.
We are especially pleased to welcome David Tillman as the newest corporate member of Horse Farms Forever. Not only are David and his company the 'gold standard' in roadway, storm water, and bridge design, traffic operations, maintenance, survey, materials investigation, and construction engineering, David is an avid outdoorsman and a champion of preserving the landscapes that make Ocala/Marion County a great place for outdoor recreation.
Tillman and Associates' staff of land development and entitlement professionals has over 100 years of combined Civil Engineering, Land Planning, Surveying, Landscape Architecture, and Environmental Engineering experience. Mr. Tillman has served in many different aspects of the civil engineering field. These include: roadway design, storm water design, bridge design, traffic operations, maintenance, survey, materials investigation, and construction engineering. Currently, he is working with the Roberts family on Golden Ocala and the World Equestrian Center. He has managed the permitting for over 16,000 acres within The Villages Project, as well as over 40 FEMA map revisions. Mr. Tillman was the engineer of record on US 441 widening at The Villages as well as the widening of CR 42, just north of The Villages. Mr. Tillman is a graduate of the Georgia Institute of Technology. He serves on the Marion County LDRC as Chairman, holds the treasury position for the Ocala Silver Springs Rotary Club, is a chapter coordinator for Mathcounts sponsored by the Florida Engineering Society, and is also an FDEP Certified Stormwater Management Inspector. He is also a member of the Marion County Building Industry Association and the CEP.
Corporate Membership
Looking for a way to show that you care about open spaces and promote your business throughout the equine community?
Becoming a Horse Farms Forever Corporate Member gives you access to our members in Ocala/Marion County and beyond.  Donating to Horse Farms Forever, a registered 501(c)3 with the IRS, reaches our members, friends, and subscribers though our newsletters, social media, advertising, and events.
To learn more or to join please contact our Director of Community Affairs,
Sara Fennessy 
Always Watching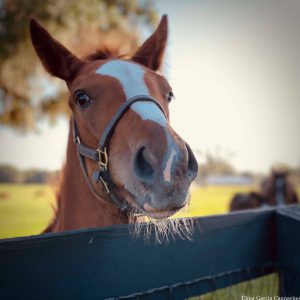 We work hard to keep you informed, and to represent our members' interests in preserving our horse farms, farmland and the unique character and culture of Marion County.
Join the herd. Every voice matters.