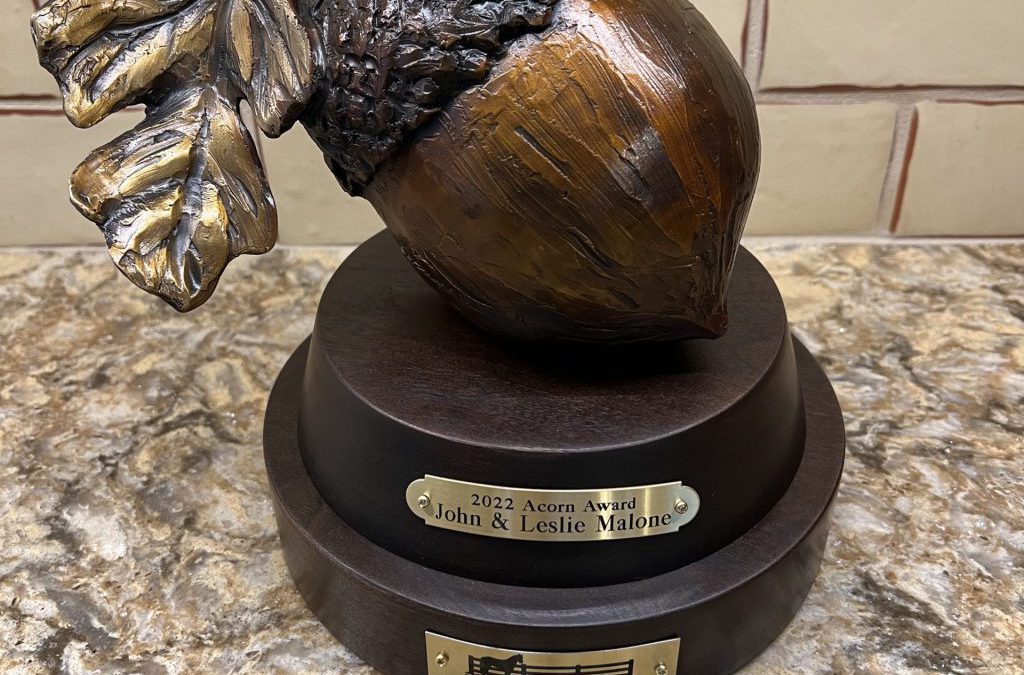 The Acorn Award was crafted by renowned wildlife sculptor, Bryce Pettit of Durango, Colorado.
Horse Farms Forever is honored to announce that the 2022 Acorn Conservation Award will be presented to John and Leslie Malone, Owners of Bridlewood Farm, at the upcoming Conservation Summit on November 14th at Ocala Breeders' Sales Company.
The Acorn Conservation Award is presented by Horse Farms Forever to a Marion County landowner who has made a significant contribution to the preservation of horse farms. The Award is a one-of-a-kind bronze sculpture crafted by renowned wildlife sculptor Bryce Pettit from Durango, Colorado. The phrase "From tiny acorns, mighty oaks grow," aptly describes how we envision the conservation movement in Marion County. A few landowners are leading the way by putting their vision into action as they protect their land. Each time, they become an example to other landowners who see the possibilities, and the movement grows. In the end, a magnificent tree has grown, with branches that spread throughout the County, and the Farmland Preservation Area is sheltered in its shade.
George Isaacs, Bridlewood Farm General Manager, Horse Farms Forever Director and newly elected President of the FTBOA, will present the Award to the Malones at the Summit this Monday. The Summit is free and open to the public. Come one, come all to honor the Malones and hear Secretary Jared Perdue of FDOT and Administrator Tracy Straub of Marion County tell us the latest about present and future road projects in Marion County.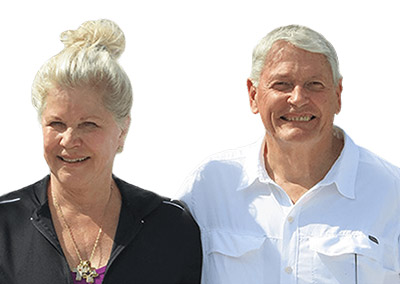 About Bridlewood Farm and the Malones
Bridlewood Farm, a name synonymous with success at the highest levels in Thoroughbred racing, breeding and sales, encompasses more than 2,200 acres. Founded in 1976 by Arthur and Martha Appleton and owned today by John and Leslie Malone, Bridlewood Farm has represented excellence for 43 years. Under the ownership of the Appletons and the direction of General Manager George Isaacs, Bridlewood Farm was represented by more than 100 stakes winners, including Grade 1 winners like Florida Champions Jolie's Halo, Wild Event, Forbidden Apple, Southern Image, and David Junior, along with countless equine millionaires.
Under the stewardship of the Malones since September of 2013, Bridlewood is firmly committed to the goal of becoming a prominent, nationally-recognized breeding and racing entity once again. We have quickly garnered a world-class broodmare band and have already been represented with our partners in Grade 1 winners Moonshine Memories and Tapwrit. We look forward to the future and our entire staff embraces daily the challenge to breed, raise, train, and produce quality equine athletes.
The Malones have kept the Bridlewood name–inaugurated by the late Arthur I. Appleton–both to honor its history and to create opportunity. More than 100 stakes winners have been bred and raised under the name Bridlewood, and superstar Champion Smarty Jones is among the many top horses trained at the farm. Many top stallions have stood there as well, including Silver Buck (sire of Hall of Fame champion Silver Charm), Skip Trial (sire of Hall of Fame champion Skip Away), and Stormy Atlantic (Champion Juvenile Sire of 2006). Three stallions will stand at Bridlewood in 2022: Valiant Minister, Tunwoo, and Chitu.
The Malones purchased the historic facility in Ocala, Florida in August 2013. In the short span since they purchased Bridlewood, they have procured some of the most sought-after bloodstock in the sales arena, and secured three new Graded stakes winners for their stallion barn. John Malone, Chairman of Liberty Media Corp. (whose holdings include Sirius XM and the Atlanta Braves) is the largest land owner in the United States. Leslie, a horse lover since childhood, is a well known equestrian and major supporter of the U.S. Olympic Dressage Team.
While the Malones credit their Irish heritage for their quest to acquire land, the purchase of Bridlewood hit a little closer to home.
"We're approaching retirement age, and we were originally thinking of a retirement place," John told The Blood-Horse. And the thrill and excitement of the Thoroughbred industry, coupled with the opportunity to preserve such a famed operation, was an opportunity too good to pass up.

"It's a beautiful property," John said. "To find a hill in Florida is a rarity. The place has a lot of natural beauty, and visiting the farm kind of brings out the farmer in me."
Bridlewood Farm is 2,200 acres – the largest and most iconic Thoroughbred Farm in Marion County. Photos by Bridlewood Farm and Elma Garcia Cannavino.

George Isaacs, General Manager
George Isaacs grew up around cattle and horses on his grandparents' farms in Kentucky. At the age of 18, he began his equine career at Stanley Petter's Hurricane Hall Stud as a groom. In 1981, Isaacs went to work for the late Joe Taylor at John Gaines' Gainesway Farm as a stallion groom and was later promoted to Asst. Stallion Manager as well as Yearling Manager.
Isaacs came to Florida in 1989 to assume the post of Stallion Manager at Arthur I. Appleton's Bridlewood Farm. Three years later, he went to work for Allen Paulson as General Manager of his Brookside South Farm where he was involved with Breeders' Cup winners Ajina, Cigar, Eliza, and Escena, and countless more stakes winners. Mr. Paulson was recognized as Eclipse Award-winning Breeder in 1993, as well as Eclipse Award-winning Owner in 1995-96, during Isaacs' years with him. "To be able to work for Mr. Paulson and all those great horses and people in my early thirties seemed surreal at the time. It was an invaluable learning opportunity that helped prepare me for taking over Bridlewood."
In 1996, Isaacs returned to Bridlewood as General Manager and has overseen the farm's operation ever since. During that time, well over 100 Florida-bred stakes winners and 12 Grade 1 winners have been bred by the farm, including Florida Champions Jolie's Halo, Wild Event, Forbidden Apple, Southern Image, David Junior, and Eden's Moon. In 2001-04, Isaacs helped manage the training and racing career of Kentucky Derby & Preakness winner Smarty Jones for the Chapman family. Leading Florida stallions such as Skip Trial, Stormy Atlantic, Halo's Image, and Put It Back have all stood at Bridlewood under Isaacs' guard.

Summit 2022
Let's Talk Transportation
Monday, November 14
11am to 1:30pm
Live stream begins at 12 Noon